Begin with one of our Get Ready to Work® solutions
Prequalification Subscription Solution
Our Prequalification Subscription Solution connects contractors to their employers. With a contractor subscription you are able to let employers know that you meet all of the requirements to get hired and begin work – this step is known as prequalification.
As an industry leader in customer support, you can count on ComplyWorks being there for you every step of the way. Let us help you Get Ready to Work®.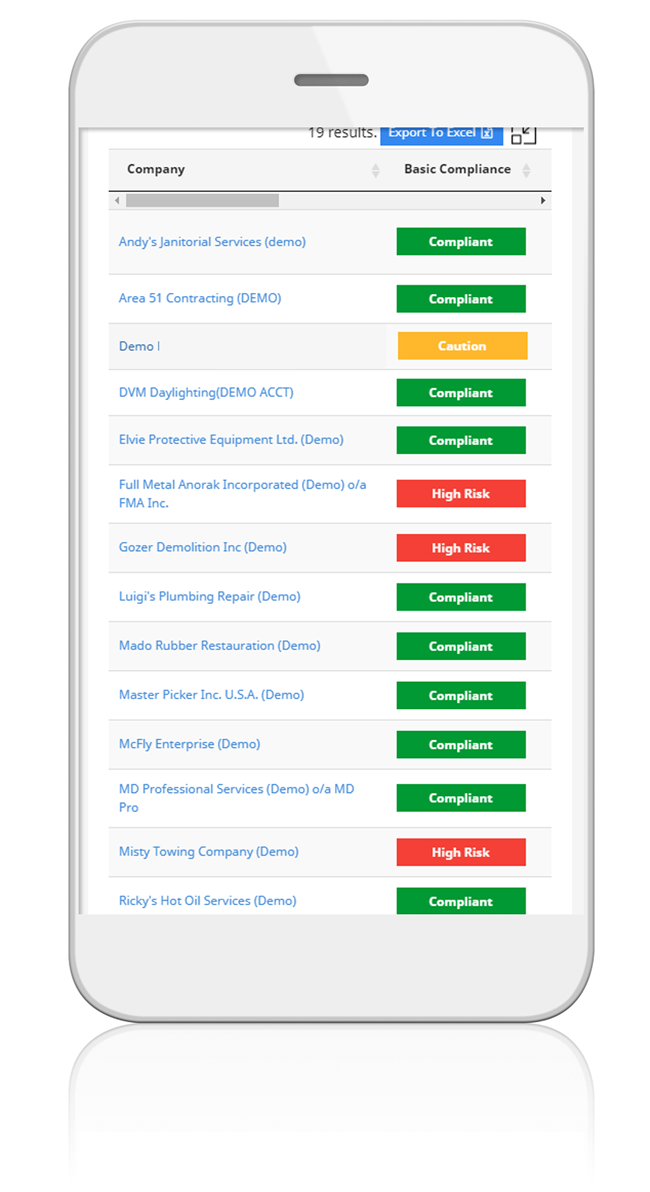 Communications Solution
If you do not need the full Compliance Management Solution (CMS), but still want to ensure that your employees receive the right orientations and inductions, we have a solution for you. Our Communications Solution empowers you with training abilities and tracking so you can ensure your employees complete their assigned training.

Our Communications Solution is an easy to use online solution that can eliminate tedious filing and save you time. It can be rolled-out quickly, accessed anywhere anytime and can track completion of staff training, orientations or inductions.

Orientations/Inductions
On-board new employees through orientations or inductions and test their knowledge retention to set them up for success.
Flexible Materials
Upload documents, PDFs and videos to your orientations or inductions to fit you and your employees' needs.
Consistency is Key
Onboard/induct new employees with consistent training throughout your entire operation.
Reminders Right in Your Inbox
Use expiry dates and automatic alerts to always stay on track of your training.
Were They Listening?
Create a knowledge retention test at the end of the orientation or induction and track completions.
Bulletins
No more guessing if someone has read your communications; the recipients sign-off – reducing your liability.
Custom Communications
Use customizable bulletins to communicate effortlessly to different groups or departments.
Controlled Distribution
Send documents or PDFs to individuals or groups to meet your needs.
Full Access
Manage permissions and access to files and documents remotely anytime anywhere.
Convenient Document Storage
Maintain a detailed inventory of all up-to-date policy documents.
If you'd like to learn more about the Communications Solution, please contact us for a free demo.
Clients have seen up to
60% time saved
with ComplyWorks' orientations.
Who can benefit from it?
HSE management
Executives
Human resources
Administrators
Employees and contractors
eProcurement
---
In partnership with ProcureDox, ComplyWorks now offers a complete end-to-end solution, from prequalification to payment. Our eProcurement Solution offers clients the opportunity to minimize risk by ensuring that contractors are compliant with regulatory requirements at the time of payment. It also allows contractors to send all of their e-invoices through one simple system instead of many, with the employer still receiving it in the format they desire.
---
Administrators can log into your ComplyWorks account today and with one click, register for our eProcurement Solution. Give it a try! Your first 10 e-invoices are free to send. If you have an employer account, contact your client relationship manager to learn more.
eProcurement is currently supported across North America and will be expanding to meet growing demand.